For Best Bowling Ball Prices call 404-892-5389

Get a discount by mentioning Bowling200.com
Congratulations to Greg Black Jr. and Devonn Turner, the champions of the 2014 Bowling200.com Ice Cream Double Scoop Tournament with a score of 1476. Mr. Black also won both Scratch and Handicap Singles with our new tournament high score record of 780 (scratch). Thank you to everyone that supported the tournament.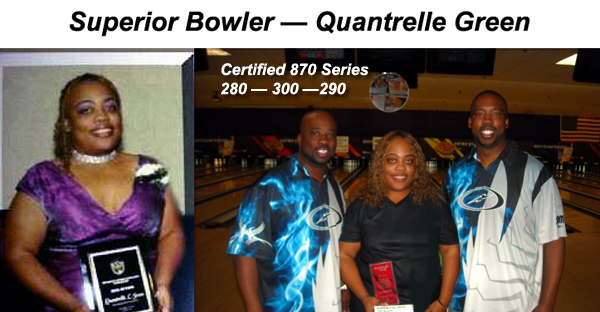 Quantrelle L. Green began her bowling career in 1979 at the age of 4, in Flint, Michigan. At the age of 16, she became the first female youth bowler in the Flint area to bowl a 300 game. In 1996, Quantrelle and her family relocated to Atlanta, GA, and her bowling continued to flourish. She bowled her first 300 game in 1991 and her eleventh 300 game on April 24, 2013. Her highest average is 231 and her highest series is 870, which is the highest in the State of Georgia and the highest (Woman) three game series in the nation for the 2010-2011 bowling season.
Quantrelle has amassed a very impressive bowling record and her overall consistency, dedication, quiet confidence and competitiveness, has earned the respect and admiration from her team mates and peers.

* Quantrell Green's 870 Series (280, 300 and 290) set a new GA State WBA record that ranks nationally as the 3rd highest series by a female.
* 2012 Inducted Into USBC Georgia State Hall of Fame-Superior Performance
* 2012 Inducted Into TNBA Southern Regional Bowling Hall of Fame- Superior Performance
2014 iBowlStrikes May Tournament Final Results
Congratulations to Curtis Miller Sr. and Greg Black Jr, the 1st Place Champions of the 2014 May Doubles Tournament with an impressive score of 1461. Also, congratulations to our Singles Division winners; 1st Place Scratch Singles: Greg Black Jr with 701. 1st Place Handicap Singles: Curtis Miller Sr. with 760. 1st Place Women's Handicap Singles: Danice Turner with 725. 1st Place Women's Scratch Singles: Quantrelle Green with 614. 1st Place Seniors Singles: Curtis Miller Sr. with 760.
Final Standings at: http://bowling200.com/may2014/id46.html

Jason Sterner Wins!

Congratulations to Atlanta's Jason Sterner for winning his first PBA title at The Don Carter Classic. Showing great confidence and poise, Jason bowled 299 against Wes Malott to win. Jason Sterner made his 1st PBA television debut earlier this season at the World Series of Bowling. Great bowling Mr. Sterner!